PhotoMOS Automotive Relay for Electric Vehicle (EV), Hybrid Electric Vehicle (HEV), and Plug-on Hybrid Electric Vehicle (PHEV) Applications
Bright TOWARD offers PhotoMOS Automotive relay with stable and reliable switching operation under critical environment.  Photo emitted D-MOSFET technology (PhotoDMOS) achieves fast switching with high load.  Suitable for EV, HEV, and PHEV applications.  It is also used in infrastructures, such as Battery Management Systems, Motor Control, Power Conversion, and Charging/Discharging.
TOWARD PhotoDMOS relay is certified AEC-Q101 as automotive grade semiconductor.  Wider range of operating temperature from -40 to +125 degree C.
38S-Q / 45S-Q / 47S-Q Series
VDE Certified / UL Certified / AEC-Q101 Certified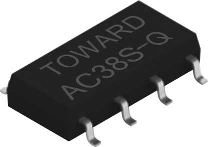 | Product Name | Contact Form | Operation LED Load Current (MAX) | Load Voltage (MAX) | Load Current (MAX) | On-Resistance (Typ) | Output Capacitance (Typ) | Off-state Leakage Current (Typ) | I/O Breakdown Voltage | Device Package | Packaging |
| --- | --- | --- | --- | --- | --- | --- | --- | --- | --- | --- |
| AB38S-Q | 1A | 3.0mA | 600V | 70mA | 40 Ohm | 47pF | 1.0uA | 1500Vrms | SOP4 | Stick/Tape |
| AC38S-Q | 2A | 3.0mA | 600V | 70mA | 40 Ohm | 47pF | 1.0uA | 1500Vrms | SOP8 | Stick/Tape |
| AB45S-Q | 1A | 3.0mA | 60V | 200mA | 3.0 Ohm | 20pF | 1.0uA | 1500Vrms | SOP4 | Stick/Tape |
| AC45S-Q | 2A | 3.0mA | 60V | 200mA | 3.0 Ohm | 20pF | 1.0uA | 1500Vrms | SOP8 | Stick/Tape |
| Product Name | Contact Form | Operation LED Current (Max) | Load Voltage (Max) | Load Current (Max) | On-Resistance (Typ) | Output Capacitance (Typ) | Off-State Leakage Current (Max) | I/O Breakdown Voltage | Operating Temperature | Device Package | Packaging |
| --- | --- | --- | --- | --- | --- | --- | --- | --- | --- | --- | --- |
| AA36-T | 1A | 8.0mA | 60V | 0.5A | 0.12 Ohm | 470pF | 10uA | 3750Vrms | -40 to +125 | DIP6 | Stick |
| AA36F-T | 1A | 8.0mA | 60V | 0.5A | 0.12 Ohm | 470pF | 10uA | 3750Vrms | -40 to +125 | SMD6 | Stick/Tape |