Menlo Micro will exhibit at IMS booth #7110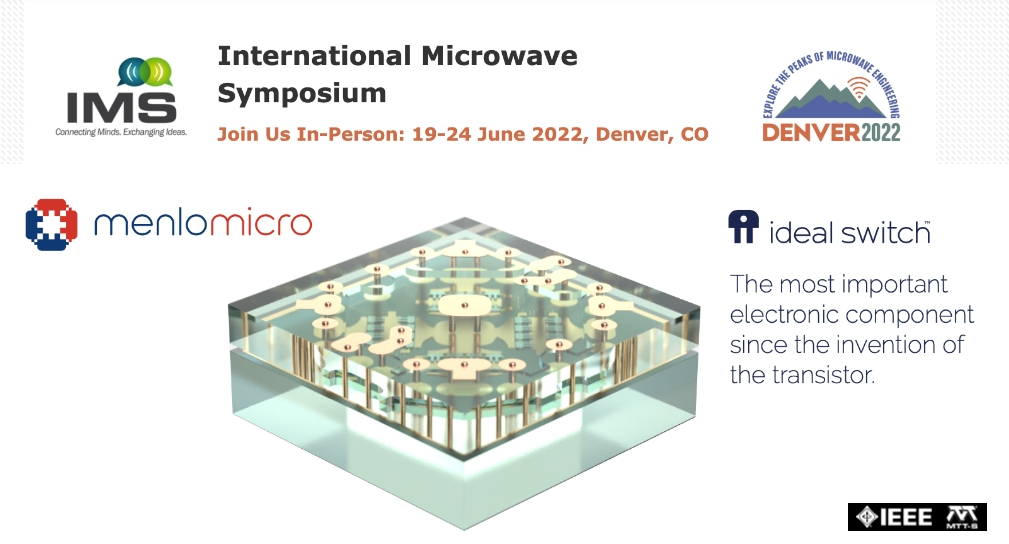 Menlo Micro will exhibit at International Microwave Symposium (IMS) in Denver, Colorado from June 21st to 23rd. Please schedule a meeting with Menlo Micro or stop by Menlo booth #7110. There will be demonstrations of Menlo Micro's high performance MEMS switch technology for Microwave Applications.
Demo 1: High-power Thermal Performance – Ideal switch vs. GaN
Demo 2: MM5130 / MM5120 based Filter Banks (with X-microwave)
Demo 3: 5G Beam Steering Antenna
Demo 4: Ultra-High Linearity – Ideal switch vs. GaN
Demo 5: MM5600 Signal Integrity – in partnership with Teledyne-LeCroy & Advantest
Demo 6: RF Hot-switching Performance
Witness the Ideal Switch Impact – High Performance RF MEMS Switch
Increase Reliability: A 1000x increase in reliability from electro-mechanical relay (EMR) to the Ideal Switch.
Clear calls, faster Downloads: Switched control the quality of RF signals as well as the amount of power available to the antenna. The Ideal Switch's linearity is an improvement of 100x to 10,000x and can handle 1,000 of watts.
Increase Energy Efficiency: The low On-resistance and minimal gate control current required to switch endure the Ideal Switch is at the forefront of energy efficiency.
High Performance RF MEMS Switch Product Updates
MM5130: The MM5130 is the world's first generally available high-power RF SP4T Ideal Switch. It can handle 25 W forward power while providing ultra-low insertion loss. It has superior linearity from 26 GHz down to DC and performs more than 3 billion switching cycles. The four switch channels are individually controllable by applying voltage to the corresponding RF GATE pin.
MM5600: The MM5600 is a DPDT switch that can operate up to 40 Gbps and is perfect for high-speed differential signal switching. The MM5600's integrated driver can be controlled by a serial-to-parallel interface that drives the high voltage gate lines of the switches. The design also offers a considerable 94% reduction in size when compared to conventional EM relay solutions.
Schedule a Meeting with Us Today!
Email: [email protected] to schedule a meeting with us. Or, contact to Refurvo. We look forward to seeing you at the show.
---
MEMSスイッチデバイスに関するお問合せは RF MEMS section にアクセスしてMenloMicro製品の詳細を確認してください。