Bright TOWARDは、さまざまな家庭用電化製品向けの高負荷電流フォームBオプトMOSFETリレーをリリースしました
The demand for the Normally Closed (NC) switch with higher load current capability is increased recently, especially for security, small household appliances, and meter applications. Because those applications require "on state" of the signal path most of the time. Criteria are not the cycle of switching or the number of switching, but extremely low power consumption under normal operations, "on state". Bright TOWARD offers high current Form B Opto MOSFET relay, AP70 series, with DIP and SMD packages for design flexibility, that handle 2 Amps load-current with only 0.5 mA operational current. It will greatly reduce long-run standby power consumption.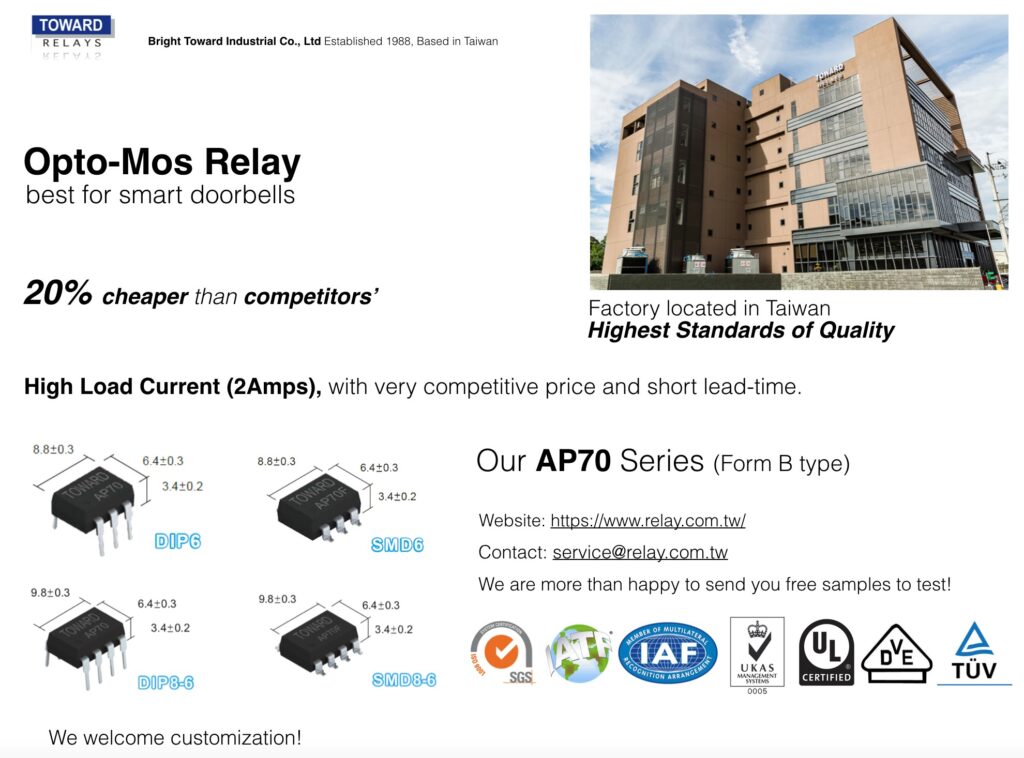 Highlighted Feature
1B (Normally Closed) contact form
60V Load Voltage
2.0A Load Current
5.0mA Operation LED Current
250mOhm On-Resistance
1.35nF
10uA Off-state Leakage Current
データシートはこちらをクリック Datasheet. And please contact us は、こちらから。
The manufacturing and inspection process of these products is well-controlled by a sophisticated management system and recorded inspection data to guarantee the performance and quality. Custom/semi-custom solutions are available to meet customers' requirements.
Range of Bright TOWARD products
SiC MOSFET
for Automotive
for RF low CxR
for High Power
for low leakage
for general purpose
SMD
SIP / DIP
High Voltage
High Insulation Resistance