Low CxR RF Opt MOSFET relay for RF Applications
Bright Toward release Low CxR RF Opto MOSFET relay products with low Output capacitance and low On-resistance characteristics for high-frequency applications. For high precision measurement applications, extremely low On-resistance and low Output capacitance are required, whereby higher isolations in the high-frequency signals. 21NS series achieves 1.0pF low output capacitance with TOWARD D-MOSFET technology. Compared to traditional mechanical relays, Opto MOSFET relays provide great benefits, including reducing real-estate of PCB – small form factor, longer life as semiconductor, and high-speed switching -quick response and performance. Suitable for telecommunication, measurement equipment, and medical equipment.
New 21NS Series
Features
Low Capacitance (1.0pF Typ)
underdevelopment, looking for the next level of performance. We will announce soon!
Coming soon. Please contact us for more detail. Contact us
---
21RS / 23RS / 46 Series RF Opto MOSFET relay
Features
Low On-Resistance 0.9 Ohm MAX (21RS Series)
Low Output Capacitance (13pF 21RS Series, 3pF 46 Series)
High Load Voltage 250V MAX (23 Series)
Low Off-State Leakage Current 1nA MAX and Low Operation LED Current 1.5mA MAX (46 Series)
for modem, telephone, telecom, security, sensing, Automatic Test Equipment (ATE), and I/O modules
Low Leakage 23RS-pA series available.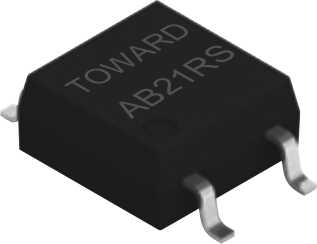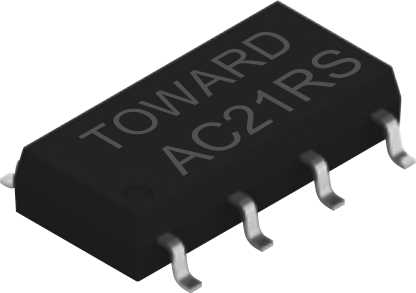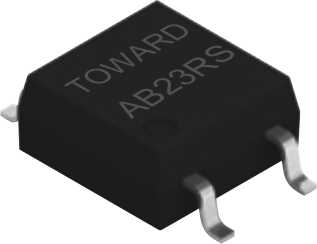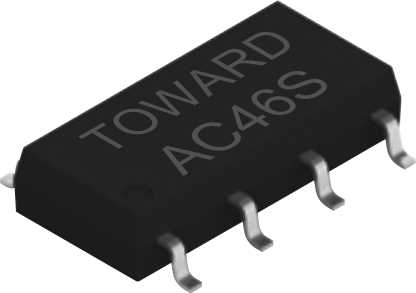 | Product Name | Contact Form | Load Voltage (Max) | Operation LED Current (Max) | Load Current (Max) | On-Resistance (Typ) | Output Capacitance (Typ) | Off-State Leakage Current (Max) | I/O Breakdown Voltage | Device Package | Packaging |
| --- | --- | --- | --- | --- | --- | --- | --- | --- | --- | --- |
| AB21RS | 1A | 40V | 3.0mA | 0.25A | 0.9 Ohm | 13pF | 10nA | 1500Vrms | SOP4 | Stick/Tape |
| AC21RS | 2A | 40V | 3.0mA | 0.25A | 0.9 Ohm | 13pF | 10nA | 1500Vrms | SOP8 | Stick/Tape |
| AB23RS | 1A | 250V | 3.0mA | 0.17A | 11 Ohm | 37pF | 10nA | 1500Vrms | SOP4 | Stick/Tape |
| AC23RS | 2A | 250V | 3.0mA | 0.17A | 11 Ohm | 37pF | 10nA | 1500Vrms | SOP8 | Stick/Tape |
| AA46 | 1A | 80V | 3.0mA | 80mA | 35 Ohm | 3pF | 1.0nA | 3750Vrms | DIP6 | Stick |
| AA46-H | 1A | 80V | 3.0mA | 80mA | 35 Ohm | 3pF | 1.0nA | 5000Vrms | DIP6 | Stick |
| AA46F | 1A | 80V | 3.0mA | 80mA | 35 Ohm | 3pF | 1.0nA | 3750Vrms | SMD6 | Stick/Tube |
| AA46F-H | 1A | 80V | 3.0mA | 80mA | 35 Ohm | 3pF | 1.0nA | 5000Vrms | SMD6 | Stick/Tube |
| AB46 | 1A | 80V | 3.0mA | 80mA | 35 Ohm | 3pF | 1.0nA | 3750Vrms | DIP4 | Stick |
| AB46-H | 1A | 80V | 3.0mA | 80mA | 35 Ohm | 3pF | 1.0nA | 5000Vrms | DIP4 | Stick |
| AB46F | 1A | 80V | 3.0mA | 80mA | 35 Ohm | 3pF | 1.0nA | 3750Vrms | SMD4 | Stick/Tube |
| AB46F-H | 1A | 80V | 3.0mA | 80mA | 35 Ohm | 3pF | 1.0nA | 5000Vrms | SMD4 | Stick/Tube |
| AB46S | 1A | 80V | 3.0mA | 80mA | 35 Ohm | 3pF | 1.0nA | 1500Vrms | SOP4 | Stick/Tape |
| AB46S-H | 1A | 80V | 3.0mA | 80mA | 35 Ohm | 3pF | 1.0nA | 3750Vrms | SOP4 | Stick/Tube |
| AC46 | 2A | 80V | 3.0mA | 80mA | 35 Ohm | 3pF | 1.0nA | 3750Vrms | DIP8 | Stick |
| AC46-H | 2A | 80V | 3.0mA | 80mA | 35 Ohm | 3pF | 1.0nA | 5000Vrms | DIP8 | Stick |
| AC46F | 2A | 80V | 3.0mA | 80mA | 35 Ohm | 3pF | 1.0nA | 3750Vrms | SMD8 | Stick/Tube |
| AC46F-H | 2A | 80V | 3.0mA | 80mA | 35 Ohm | 3pF | 1.0nA | 5000Vrms | SMD8 | Stick/Tube |
| AC46S | 2A | 80V | 3.0mA | 80mA | 35 Ohm | 3pF | 1.0nA | 1500Vrms | SOP8 | Stick/Tape |
| AC46S-H | 2A | 80V | 3.0mA | 80mA | 35 Ohm | 3pF | 1.0nA | 3750Vrms | SOP8 | Stick/Tube |
---