Silicon Carbide (SiC) MOSFET
Silicon Carbide (SiC) MOSFET to become the de-facto standard for EVs and HEVs applications. Bright TOWARD Industrial Co., Ltd. announced TO247 SiC Poer MOSFET from 650V/110A to 1700V/3.4A, TO220 SiC Power MOSFET from 650V/12A to 52A models. These products significantly reduce turn-off losses compare with conventional IGBTs. As a result, these solve design engineers' difficult tasks to achieve high power capability and low conductive losses. Noticeably Bright TOWARD extends their SiC technology to well-known Relay products line, 50 Series SiC MOSFET relay (650V/300mA), 51 Series SiC MOSFET relay (1200V/250mA), 52 Series SiC MOSFET relay (1700V/350mA), and 53 Series SiC MOSFET relay (3300V/300mA). These products achieve both high load voltage with high load current and low and stable On-Resistance.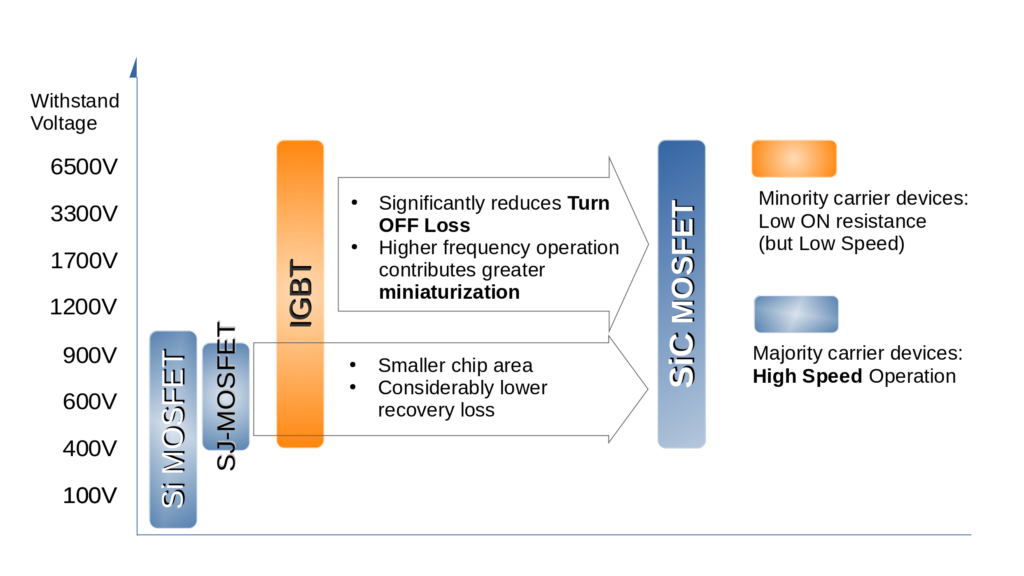 SiC MOSFET is able to gain lower ON-Resistance and higher voltage with the same chip size of conventional Si MOSFET. SiC MOSFETs generate no tail current and reduce a turn-off loss for replacement of Si-IGBT. By these superior characteristics, these products are suitable for applications in Energy Storage System (ESS) and Battery Management Systems (BMS).
Opto SiC MOSFET Relay Products
Opto Silicon Carbide (SiC) MOSFET relays.
SiC MOSFET Products
N-Channel Enhancement Mode
| Part Number | VDS (V) | IDS @25C (A) | RDSon (mOhms) | Package | Datasheet |
| --- | --- | --- | --- | --- | --- |
| TSC065F020 | 650 | 110 | 20 | TO247 | pdf |
| TSC065F050 | 650 | 52 | 50 | TO247 | pdf |
| TSC065F100 | 650 | 25 | 100 | TO247 | pdf |
| TSC065F200 | 650 | 12 | 200 | TO247 | pdf |
| TSC120F030 | 1200 | 80 | 30 | TO247 | pdf |
| TSC120F060 | 1200 | 41 | 60 | TO247 | pdf |
| TSC120F120 | 1200 | 20 | 120 | TO247 | pdf |
| TSC120F240 | 1200 | 10 | 240 | TO247 | pdf |
| TSC170F045 | 1700 | 58 | 45 | TO247 | pdf |
| TSC170F1K0 | 1700 | 3.4 | 1000 | TO247 | pdf |
| TSC065B050 | 650 | 52 | 50 | TO220 | |
| TSC065B100 | 650 | 25 | 100 | TO220 | ASK |
| TSC065B200 | 650 | 12 | 200 | TO220 | ASK |